Thanks to the relatively discreet feature, texting is considered a viable messaging solution.
BY USING OUR SOFTWARE, YOU CAN GET AN ENDLESS RANGE OF ADVANTAGES AND ESSENTIAL FEATURES:
Many risks and contingencies that accompany our lives moved into the virtual space. Our children can no longer safely surf the internet, and our spouses got new opportunities for cheating behind our backs. We will introduce you best five text messages tracking apps to track on text messages. PanSpy is a free professional monitoring solution provider specializing in tracking and monitoring tools for smartphone users. Equipped with numerous useful features, including GPS tracking, text and call logs, website blocking, and keyword alerts, the PanSpy cell phone tracking software is intended to protect both, minor children from online dangers and business owners from corporate information and assets leakage.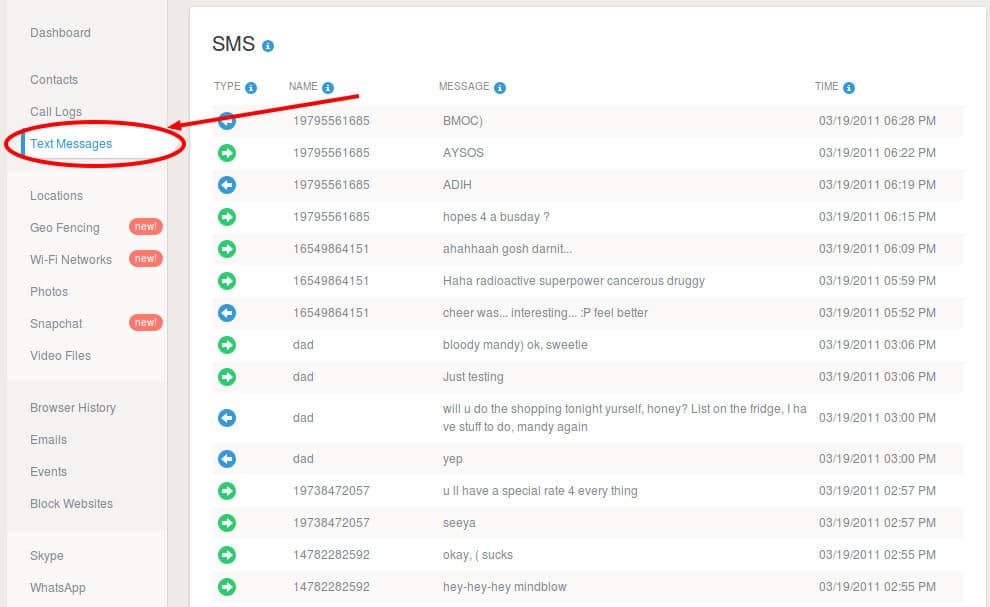 Step 1. Create An Account. Enter you e-mail and create an account.
Spy On Your Boyfriends Text Messages For Free - How To Spy On Text Messages Free
You will receive a confirm e-mial to activate your account. Then login in your account. Note: PanSpy now offers time-limited free registration, allowing users to experience mobile monitoring service. Don't miss it! Step 2. Install Software.
Log in to your Control Panel and follow the instructions. Download PanSpy app on your target phone. Step 3. Start Monitoring. Log in to PanSpy Control Panel to start tracking GPS location, instant messages, browsing history and any other activities taking place on the monitored device. In fact, TheTruthSpy is not entirely free software.
SMS Tracker: How to Track Text Messages on Web for Free
However, you can use TheTruthSpy for free to a certain extent. So, if you need to intercept text messages without target phone for free, you can read this section on. You can download this app through the app store. You can use the trial app. However, the trial app is available for a limited period of time and with limited features.
If you purchase TheTruthSpy, you can enjoy all the features without any restriction. With the assistance of this software, you will be able to track text messages on another phone easily. In addition to that, there can be plenty of other uses of this app. For instance, it can track even the phone calls made by the target device owner. After all, that is exactly how a good spy app should work. The app icon will be removed from the main screen of the device. TheTruthSpy can also detect the real-time location of the device easily.
Spy on text messages | FREE Text Messages Tracker for Android
If you need to keep a track on your family members or the kids, you can rely on this app. If loved ones are reaching places that are not friendly, this app will notify you. It can read the instant messages on the target device. With the assistance of this software, you can keep a track on all the messages sent and received on the device. You can collect evidence with this app. It can even track the multimedia contents associated with the respective device. So, you can get to know if your loved ones are engaged in something not safe. Try TheTruthSpy.
If you intend to intercept text messages without target phone for free , please remember the following. Full MMGuardian Review in Leave A Reply Cancel Reply. Save my name, email, and website in this browser for the next time I comment. This website uses cookies to improve your experience. It is particularly designed for the use of tracking all the SMS messages that are sent or is received at the victim device.
All the details will be available at the online FreePhoneSpy application control panel that one can access from anywhere with the help of internet connections. So you want to spy on SMS of another person. Right away one begins to search for those over the web and if failed to do so then one would get the device of the person and see all the SMS.
How To Track Someone's Text Messages For Free
In every technique you want satisfaction and safety fully. Another method to know the SMS is spying on the device but with the help of a reliable spy tool. SMS spy tool is the applications that are programmed and is designed for controlling and monitoring any device.
It is actually a virtual device that one has to install over the targeted person device to figure out everything in hidden mode. If you are making use of Smartphone then obviously you might be aware of those.